Continued from the previous post...
Ab Roller
The same can't be said for the ab roller. This thing will murder you the first couple of times - and DOMS in your lower abs can be tough! Still, this is an epic - I'm back to about 3 x 11, but did have this out to 3 x 16 with a good long roll. I do like to leave a day afterwards to recover, though, or just do the bridges routine above.
There's a good
YouTube video of the technique here
(apologies for the audio - others are considerably worse, trust me). The ab wheels are pretty cheap, I think I got mine for about $10-15 at Super A-Mart or Rebel.
Bosu Board
Some years ago in Sydney I bought a thing called a bosu board, after coming across it at a gym in St Leonards. It is this thing: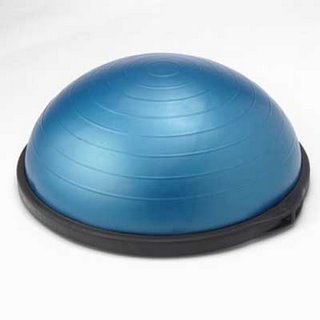 The top bit is basically the top third of a Swiss ball (which can be inflated) mounted on to a hard base.
I do a routine of four exercises on this which are basically active versions of the static bridging exercises I do (front, sides and back). So, essentially, crunches, sides bends, and back raises. The beauty of the bosu is you can go past 180 degrees.
Crunches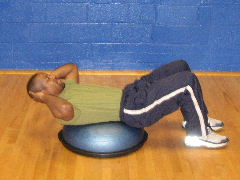 Side Bends
Back Raises
I generally prefer to do the bosu stuff the day before the ab roller stuff, as if I do the roller routine the day before the bosu, I'm really sore for the crunches.
In an ideal week, it'd be the bridges/planks every day in the morning, and a rotating schedule in the evenings of bosu, roller, day off, bosu, roller, day off, and so on.